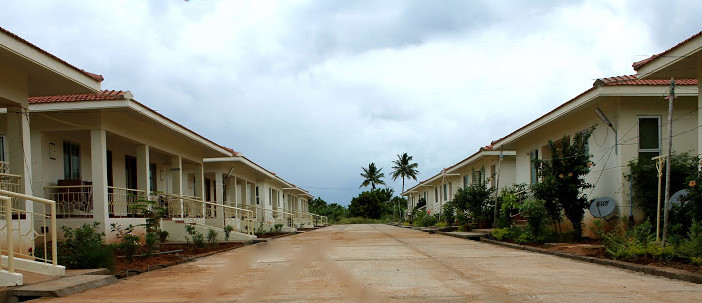 Thinking of a retirement home?
Retirement homes and communities suited to the specific needs of the elderly are coming up across India. Silvertalkies takes a look at what's on offer and how it can help both children and parents if the situation demands it.
When we started out to do a feature on retirement homes in India, we were amazed by the number of retirement communities and apartments coming up all over the country. With plush interiors, activity centers, senior friendly facilities, healthy food, doctors on call and security, these were a far cry from the image most Indians have of a home for the elderly.
Truth be told, most retirement communities that are coming up cater to the middle and upper middle class. However, the fact that they exist means there is a shift in the traditional Indian family system. Children want the best for their parents though they may not have the time to provide it themselves. Parents too are realizing that it would be safer and easier for them to live in an environment where they are independent and at the same time well taken care of. And while it looks like a win win situation for all, what is the reality of it? Silvertalkies spoke to experts like Sheilu Srinivasan of Dignity Foundation, Gerontologist Dr. Indira Jai Prakash in Bangalore, T Mani Iyer of Tapovan retirement homes, Sanjay Lakhotia of Amoksh One Eighty and Dr S Jayakumar of Sri Ramanashraya Homes, along with some people who have invested in these homes to know more.
Why Retirement Home
Retirement Homes have started coming up in the outskirts of cities across India. Most these projects are away from the city in quieter, greener surroundings. Many are located near places of religious significance like homes in Coimbatore for instance. Depending on the builder, the projects are typically a combination of villas and apartments, with both 1 and 2 bhk apartments being offered. There are different types of models offered to the buyer. One is the ownership model, the other is the lifetime lease model and yet another is the refundable deposit fee model, where apart from a refundable deposit, you pay a monthly rent. Despite being fairly new, the concept seems to have caught on, at least according to the developers. Covai Property's Serene Urbana near Devanahalli will start construction only in January 2013 and have already sold 130 out of 315 units. Developers like Ashiana and Paranjape Schemes' Athashree have units at several locations.
Are retirement homes a trend that is here to stay?
Gerontologist and retired Professor of Psychology, Bangalore University, Dr Indira Jai Prakash, thinks it is a good trend. "Data shows that with increased migration of the young and nuclearization of families, small families – old people are forced to live alone. Old age home is the last and least preferred option for most Indians. So a retirement home is definitely a more attractive option for people who are alone, need health care and their dependence is likely to grow as days go by."
She also thinks there is a lot of scope for more development in this sector. "The middle class and upper middle class, which has shrunken families and cannot afford a retinue of servants may very well prefer living in retirement community. Caveat being – that such facilities are really designed, run and monitored to promote active aging."
Dignity Foundation's founder and one of the pioneers of eldercare in India, Sheilu Sreenivasan feels that "if we go to define the quality of relationship that characterises it (a family), we find that it can be laid upon a graded continuum with excellent and enlightened at one end; and rotten, degrading and exploitative at the other end. In between we see bonds that are mutually caring, paying, superficial, and indifferent. Out right neglect, denial of love, affection and care characterises families at the other end of the spectrum. Going by the number of cases of elder abuse we register at Dignity Foundation's offices, the deteriorated reality is what strikes you hard. And at both the ends it has become necessary that elders live with dignity somewhere."
Srinivasan believes that retirement homes are the answer to the need for alternate living arrangements.
"Educated enlightened families, some of whose children are away in foreign countries, see life after 60/70 as necessitating separate living arrangements where the tedium of managing the house can be avoided. To live among like-minded support groups, meeting them everyday instead of being cooped up in tiny flats on the 13th floor of a building in the city is yet another type of need. Another good reason dictates that in order to maintain the quality of relationship with daughter-in-law/son-in-law, distance is better, keeping one's dignity intact. So the best option is living independently," she adds.
Sanjay Lakhotia of Amoksh One Eighty, who are bringing luxury retirement homes to India, feels that one of the primary reasons for the recent interest in retirement homes is due to smaller families, migration of children for work, changing lifestyle expectations and longer life spans.
Crimes against the elderly are also a big factor. According to a Helpage India report on Elder Abuse and Crime in India (2011), crimes against the elderly were reported the most in Delhi, followed by Patna and Mumbai. According to the same survey, 75% of elderly in Bangalore felt they were soft targets for criminal acts. Open the newspaper and most days you have the sad news of yet another senior robbed, assaulted or worse, murdered. Staying in a retirement community comes with 24 hour security which is a solution that many children living away from their parents would prefer for their peace of mind.
While some retirement home projects like Ashiana Bhiwadi or Classic Kudumbam near Chennai are operational and well known, many would be nearing completion in 2013 and 2014. The demand seems to be there already. "The reason we started," says T Mani Iyer of Tapovan Senior Citizen's Foundation, which is setting up Tapovan Homes near Coimbatore, "is because we estimated there were about 40,000 Tamil families willing to take up this kind of accommodation."
Tapovan is a gated community only for Brahmins, a restrictive stipulation that seems to find takers in the South due to religious beliefs. Despite the caste restriction, the homes, given on a 20 year lease, have found enough takers.
The reason, Mr Iyer feels, is Coimbatore's central location, from where it is easy to visit temples. He also thinks that as people grow old, daily chores like cooking and housekeeping often become an issue. "People just want to focus on their spiritual needs and live in an environment that offers a sense of community and care."
For some it is a back-up plan. Nirmal and Hema Shah are new investors in a retirement community coming up near Bangalore. Though Mr Shah is still active in his business and Mrs Shah is an "active lady", their decision to invest in a retirement home is a well thought out plan. "We live in a joint family. Me and my sister-in-law have managed to co-exist happily all these years but our children are getting married and starting their own families. Who knows what the future holds? So why not have some place to go where you meet people your own age?" Mrs Shah feels.
Srinivasan feels people are finally opening up to the concept of retirement homes in India.
"Living separately after retirement has become an acceptable concept in urban India. It is terms such as Old Age Homes that spell disaster because they conjure up images of abandoned, depressed and dying old destitutes housed in poor surroundings. In sharp contrast, the pay and stay concept is getting popular among the middle classes. And there is now a mushrooming of such alternative housing provisions all across the country."
What you pay
Most retirement homes offer 1 or 2 BHK apartments or a studio. Some also offer the option of booking a villa. "Anandam at Kodaikanal foothills has single storey villas near a golf course. Kasauli is being planned as apartments. We do both apartments as well as villas depending on the location and the expectations of people," says Sanjay Lakhotia.
Whether it is the sale model or the lease model, in most retirement communities, the stay doesn't come cheap, making these an option for seniors who have saved up for retirement or children who are ready to spend for the comfort and safety of their parents. Apartments and villas at Ashiana Retirement Homes in Lavasa near Pune start at Rs 45 lakh onwards. In Bangalore, Serene Urbana in Devanahalli is pegged at Rs 44 lakh plus registration for a 934 sq ft apartment.
"Most of our customers are professionals with a mix of doctors, educationists, corporate executives and government servants," says Lakhotia, adding that prices at Anandam range between Rs 40 lakhs to a crore. We are going to provide options to people to lease the units as well once the property is ready for launch," he  says, claiming that the response has been encouraging.
Many retirement communities also offer the option of lifetime lease, especially in the South. Sri Ramanashraya Homes in Hosur, conceptualised by Dr Jayakumar, the person behind Sri Ramana Maharshi Sevashram, offers a 480 sq ft cottage for a refundable deposit of 11 lakhs.
Except for the Brahmins only stipulation among some developers in South, most retirement homes and communities are open to anybody over the age of 50 or 55. However one important point to check before buying is while some developers offer 'assisted living' and have constant personal care facilities for seniors suffering from ailments like dementia or parkinson's disease, some developers accept seniors who are in relatively good health and do not need complete monitoring or care.
One point to check is whether the retirement home is family friendly? Could you visit as and when you please or stay with your parents or grandparents when you like. Most offer guest rooms that could be rented, though usually there's a stipulation on the number of days a guest can stay.
Facilities on offer
Most projects offer facilities like 24/7 medical help, ambulance service and doctor on call. You also get meditation halls and an activity centre where residents can participate in various activities. Many offer regular exercise and physiotherapy. Most of the apartments come with a kitchenette, though residents also have the option of availing food from the central kitchen, saving them the hassle of everyday cooking. Almost all retirement communities offer a maintenance service (to be paid extra) which takes care of the housekeeping, a difficult chore for many elderly.
The chief advantage for many residents is not having to hunt for an electrician or plumber when required, a drudge many seniors living in city apartments have to bear. Apart from these regular services, there are extras like golf course and spa, hobby clubs, swimming pool, gym and computer centre offered by the upscale properties like Aamoksh or Ashiana at Lavasa.
Serene Urbana coming up near Devanahalli promises to provide residents with recreation arrangements, picnics, religious tours, etc. Dignity Lifestyle at Neral offers physical fitness, yoga and transcendental meditation classes, bhajans and spiritual discourses, tournaments and matches, a picnic every month. They also hold food festivals every month!
The apartments and villas themselves adhere to safety requirements that may be difficult to find or install in a regular apartment or one's current home. These include anti skid floors, emergency call buttons, grab rails in bathrooms, electrical points at reachable heights, night lamps in bedrooms, etc. Once again the amenities depend on the price and scale of the project.
The social aspect
One of the biggest issues with the retirement home concept in India has been the social stigma, real or perceived. However that seems to be changing slowly as the number of nuclear families have increased in the last 20 years and elders no longer have the support and care they would get in a joint family system. A National Family Health Survey in 2005-06 found that every three out of five households in India are nuclear. Traditionally, family has been the prime caregiver of the elderly in India. Our tradition teaches us to venerate them and put their needs ahead of ours. While many still follow this diktat in spirit, changing lifestyles and a changing urban ecosystem means that seniors are often alone and find it difficult to cope.
Shanta Lakshmi, 77, is moving to a retirement community near Pune as soon as she gets possession early 2013. She is looking forward to a team taking care of her house even if she has to pay a nifty sum for it. Ever since her husband's death two years ago, she has been very hassled getting things done. "Now even if a tap is leaking, I have to depend on the plumber whose availability is very unpredictable," she says. Mrs Lakshmi is also happy that her developers are offering facilities like bill pay services and help with banking. Her children live nearby her current home in Pune but as she truthfully points out, "my children take good care but they are very busy and don't always have the time."
Dr S Jayakumar, the person behind Sri Ramanashraya (he also runs a home for less priviledged seniors) feels that upto the age of 65/70, most seniors want to be on their own and occasionally visit their children who may be living abroad or elsewhere in India. "Once they are 68 plus, they feel it's better to stay put in a place where assisted care and medical facilities are available." One common thing he has heard from elderly women is that while men have an age for retirement, women feel they don't have any! "Many women feel that doing daily chores is wasting valuable time. Why not stay at a retirement home and indulge their interests like reading or writing while someone else takes care of the chores? They also have the company of their peer group. These are one of the options that seniors are looking at nowadays."
Jayakumar also thinks that the interest in exploring options like retirement homes and the increase in their availability is due to rising economic levels. "Earlier, a chunk of the parents' funds went for the children's education and marriage. Now when people retire, they have enough funds to start their own life." Dr Jai Prakash also thinks retirement homes make a good back up plan. "Observation shows that we do not yet have an elder friendly society. As people grow older and move into old-old category, their need for assistance increases. Such home care or paramedical care or even emergency care is not easily accessible in our cramped cities."
People are also looking at age differently now, feels Srinivasan. "Dignity Lifestyle looks at retirement from a whole new perspective. Not as the onset of old age where you settle comfortably into a rocking chair. But rather, the beginning of an 'active' new lifestyle where you can deploy your skills to serve society, and feel gainfully employed once again. You could, for instance, manage one of our village development projects. Or assist in running the township."
As Iyer says, it's a sense of community, apart from the other factors that attracts people to a retirement home. "Most of our residents are people who held good status in their own profession. Their own way of living is often different from that of the present generation, so they wish to meet other seniors with whom they share a common platform. For many that's the main reason to stay in a retirement home.
— By Reshmi Chakraborty
Photographs courtesy: Tapovan, Dignity Lifestyle
About Author