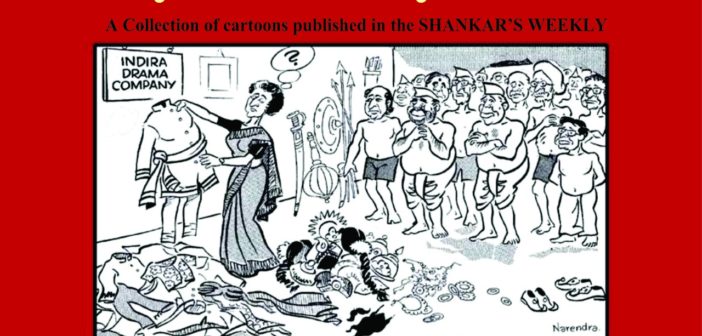 Tickling The Funny Bone With Veteran Cartoonist VG Narendra
Veteran cartoonist VG Narendra started the Indian Institute of Cartoonists in Bangalore to share his passion with others. He tells Silver Talkies about a life spent inking political satire. 
VG Narendra, 70, is the brain behind India's first and only cartoon gallery, the Indian Institute of Cartoonists, Bangalore. He credits his success in the field of political cartooning to his sheer passion for the art, a little help from his brother and being influenced by the cartoons of the great Shankar since his school days.
Scribbling A Start
Narendra would scribble since childhood and watch & observe cartoons drawn by others. He would go to the public library whenever he got a chance to see Shankar's Weekly, a cartooning magazine by Kesava Shankara Pillai, better known as Shankar, considered the father of political cartooning in India. Narendra's interest in cartoons started when he was about 12 years old. He started imitating cartoons drawn by Shankar and sent it to weekly magazines and was thrilled when they got published in the local newspaper. Self-taught, he always had a flair for drawing and developed that into cartooning. His brother, a good painter, helped him out with the necessary accessories and the encouragement to pursue his passion. Despite being a Science major, cartooning was Narendra's strength and passion. He started drawing pocket and political cartoons for newspapers during his college days and this got him noticed by a lot of senior cartoonists, historians, journalists and novelists who appreciated his talent.
His Biggest Influence
Armed with a science degree from Karnataka University, Narendra headed to Mumbai to carve out a career. A chance visit to the office of the Free Press Journal resulted in an invitation to contribute political cartoons to the paper. His work caught the eye of Shankar, who asked for a meeting in Delhi. Narendra went over and worked with Shankar on an experimental basis for a week. An impressed Shankar invited him to join Shankar's Weekly, a turning point in Narendra's life. Two years later in 1975, when then Prime Minister Indira Gandhi declared a state of emergency across the country, freedom of expression through editorials and cartoons were banned. Shankar's Weekly was then forced to close and Narendra moved to Bangalore and joined Samyukta Karnataka daily as a staff cartoonist, followed by a stint in another daily. Apart from all Indian newspapers and periodicals, Narendra's cartoons have been published in several foreign magazines as well.
Narendra goes on to speak about another iconic cartoonist he met while working in Mumbai – RK Laxman. Laxman, like others, appreciated his political cartoons and encouraged his work. Narendra invited him to a conference of cartoonists while he was the president of the Karnataka Cartoonists Association. Explaining the great popularity of Laxman's cartoon characters, Narendra says, "His cartoons were filled with lot of wit and humor and were easily understood by the Indian readers. The Times of India's popularity helped R.K.Laxman to gain popularity and vice versa."
Creating Cartooning Associations
Narendra was instrumental in forming the Karnataka Cartoonists' Association in 1977 and became its President in 1978. He organized a conference of cartoonists, in which many leading cartoonists like R.K. Lakshman, Abu Abraham and Mario Miranda participated. His enthusiasm saw the organization holding several cartoon exhibitions throughout Karnataka.
He is the brain behind the Indian Institute of Cartoonists, the first National-level organization of cartoonists in India. The institute, based in Bangalore, is the first of its kind in India, established with the aim of promoting the art of cartooning in the country. In 10 years, the gallery has hosted 150 cartoon exhibitions and has been visited by cartoonists from across India and several global artists. The institute regularly associates with foreign cartoon organizations in Turkey, Norway, and U.S.A.
His Next Big Vision, House of Cartoons
Narendra is now working towards developing an integrated campus for cartoons and cartoonists of India. This state of the art campus will not only act as a gallery to host all cartoon exhibitions but also host a well-equipped library and archival centre along with a training and development centre for budding amateur and professional cartoonists. The intention is to dedicate this centre to the future generation of India.
Moving on with the times, Narendra says though cartoons drawn by hand are still the best and will never go out of style, to develop the art their cartooning workshop also touches upon aspect of animation, using software to colour cartoons. "I constantly keep the art of cartooning alive to the youth through various forms of social media," he says. Also to help youth learn through veteran cartoonists, he has helped digitize most of the old treasured books of cartoons and makes sure they are available to cartooning enthusiasts.
Age No Bar To Pick Up The Art of Cartooning
Narendra says anyone who can hold a pencil and draw a line can learn the beautiful art of cartooning and feels that "cartooning is a form of art therapy especially therapeutic for senior citizens". It enhances one's hand-eye coordination, motor skills, and creativity. The specially designed foundation cartoon workshop at Narendra's institute is a great outlet to reduce stress levels as well as a method of relaxation.
His oldest student has been Prof. C V Vishveshwara, the founder-director of Jawaharlal Nehru Planetarium, Bangalore. Vishveshwara attended the 2-day cartooning workshop at the age of 70. He says there has been a steady flow of surgeons, doctors and army officers who come and enroll for the cartooning workshop to relax and explore their creative side.
Narendra says that his work routine at the gallery, meeting people from all walks of life and interacting with youngsters makes him grow every day. Constantly learning and being increasingly insightful is his mantra. An early riser, he wakes up by 5 am, does his yoga and exercise to make sure he is fit and able to take on the day ahead. In fact, there is no stopping this veteran cartoonist and Narendra will be releasing his first book titled 'My Times, My Views' (see our cover picture on top) in February 2018. The book will feature a collection of the cartoons that were published in Shankar's Weekly by him.
Silver Talkies is joining hands with Indian Institute of Cartoonists and will be soon rolling out a 2-day cartooning workshop. It is going to be super fun and will provide a collaborative and empowering space for the creation & sharing of an expanded comic art form. To know more, mail us on mail@silvertalkies.com.
You can check out Narendra's work at http://cartoonistsindia.com/htm/home.htm
About Author