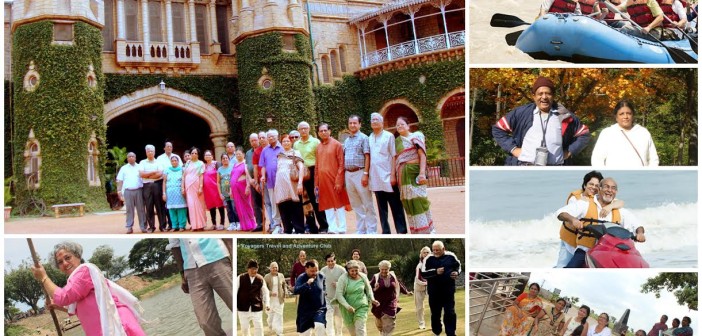 A Travel & Adventure Club for Seniors
Members of the 50+Voyagers Travel & Adventure Club have done everything from heritage holidays to river rafting. It's founder Sangita Bhattacharya tells us how they aim to promote healthy & active ageing. By Reshmi Chakraborty.
Travel and adventure clubs are usually synonymous with the younger generation. But the Bangalore based 50+Voyagers Travel & Adventure Club is set to prove them wrong. Started by former IT professional Sangita Bhattacharya, the eligibility criteria for membership in this travel and adventure club for seniors is age. Members need to be 50 years old or more to join the club.
Get Them Going
The idea of starting a travel & adventure club for seniors came to Bhattacharya when she organised few tours and itineraries for her own parents and parents of her friends. As an IT professional, she had travelled all over the world and given her natural inclination towards travel, was keen on getting into the tourism sector. Through her work and personal travels she also came across seniors from overseas and from India who loved to visit other countries and enjoy their life, including older people she met on treks to Annapurna and Kailash Mansarovar among others. "I realised that senior citizens do travel but there needs to be something different for them," Bhattacharya says. She did her research and spoke to many senior citizens and realised that while travel firms did have tours for seniors, the individual attention, exclusivity and attention to detail was often missing from these. The club was set up in November 2013 in Koramangala, Bangalore.
Entry to the 50+ Travel & Adventure Club is membership based. At the moment, the membership is Rs. 300 for a year, with which one club event comes
free. "Once people travel with us they automatically become members," Bhattacharya adds, saying that she travels with each group and plans to keep it that way for sometime at least. Most members of the club also become friendly after a tour and also invite their friends to take membership. Bhattacharya adds that their returning customer base is high and most of their publicity is word of mouth.  Some of their interesting tours so far have been five days in Kerala, where the travellers stayed in a heritage hotel, enjoyed backwater boat rides and immersed themselves in the local tradition.
The Differentiating Factor
Being an avid traveller herself, Bhattacharya says she is aware that there needs to that something extra to make a trip stand out for her senior travellers. "We keep the group size to 12 people max. We also try to make the experience localised, e.g., in Kerala they get to see the kathakali and kalaripayattu dance forms and sample local cuisine if they wish." Since the group size is small, the stay is usually in one of a kind boutique hotels and Bhattacharya is able to cater to diverse dietary needs as well.
She is constantly learning from the experiences she shares with the members of 50+ Travel & Adventure Club and mentions that it is important to take their needs and likes into account while planning the itinerary. "E.g., in one of our initial trips to Jodhpur, we had a minor hiccup when we realised the rooms booked in the heritage hotel were on a higher floor and difficult to access for some of our members. While we were able to get that changed, it was a learning experience for us because I had selected the hotel based on what I had liked and would have gone for."
The members of this travel club have even gone rafting to Rishikesh apart from several short trips near Bangalore, where the club is based, though membership is open to all 50 plus folks across India. Bhattacharya likes to give her members time to explore places when they are on a tour. "Our members like to have fun," she says. There is a lot of singing and dancing in all our trips and in the end it doesn't matter if they missed out on seeing something from the itinerary. What matters is that they had fun!"
Being a Member
While many elders enrol in the club on their own, Bhattacharya mentions that children too often inquire and encourage their parents to join. While  for most elderly, the enquiry revolves around the price, their children are concerned about safety, doctor availability and food related issues. Bhattacharya ensures gathering important details like doctor availability, ambulance and police stations at each place before they visit.
All 50 plus people are welcome to join the club, though there are some restrictions, mostly dependent on their health and the location they are travelling to. "For instance, we wouldn't advise asthmatic people to travel to Ladakh and Arunachal Pradesh," Bhattacharya shares an example. So far, most people in the travel club are fit and in the average age range of 60 to 65 years.
She also has several seniors who are single. Interestingly, out of the 150 members who are part of the club, 30 are single women! 
While the club itself is based in Bangalore, tours are open to people all over India. An upcoming tour to Kashmir has people joining from Delhi & Kolkata, apart from Bangalore. Bhattacharya ensures that there are enough icebreakers included in the itinerary, in the form of team building exercises, tam bola and others to enable seniors to interact and build a bond with each other. She recounts a group of seniors who met at the club and now meet each other over lunch. 
Bhattacharya feels that more disposable income, better health, children earning well and living on their own are factors that contribute to senior travel. Her aim is to give them a curated experience that is nothing but special and promote active and healthy living. With upcoming trips to Kashmir, Ladakh, Turkey and Thailand, she's all set to do that.
To know more about the club or find out an upcoming itinerary visit their Facebook page https://www.facebook.com/50plusvoyagers or  go to their website http://www.50plusvoyagers.com/.
All photographs courtesy 50+Voyagers Travel & Adventure Club.
About Author