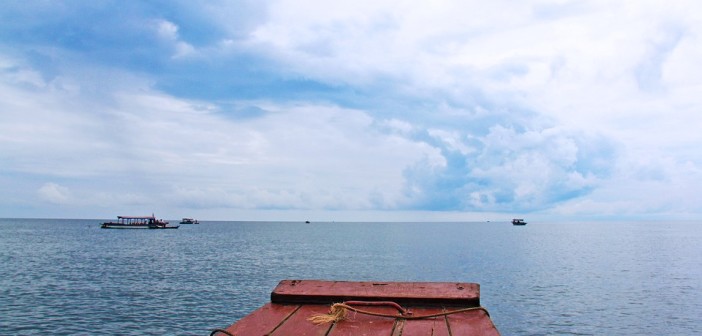 Travel Diaries: The Great Boat Ride on Tonlé Sap Lake
A boat ride along the Tonlé Sap lake in Cambodia is a chance to see the floating life. And that's not all, there are several more attractions awaiting the tourist from then onwards, says Brigadier Suryanarayanan.
The grand finale of my two-week personalised tour to Vietnam and Cambodia was on 30 Dec 2016 with a day- trip to Tonlé Sap or 'Great Lake,' Artisans d'Anglor Silk Factory, Western Baray (Reservoir), War Museum, Killing Field (Wat Thmey), War Monument Memorial and at night, the piece-de-resistance: Apsara Dance Show with dinner at a restaurant.
Leaving at 9 am from my hotel in Siem Reap in a Toyota Etios with my young personal guide Mr Moeurn, I reached the Boat Ferry 12 km away to the south in 30 minutes and got into a wooden motor boat for a 90 minute round trip towards the floating village, Chong Khneas. While briefing me, the guide also helped me with taking photographs, alternately with my Lumix camera/cellphone. As the boat moved on, it was a great sight to behold floating villages with two distinct ethnicities: Khmer and Vietnamese — separated from each other. Chong Khneas, with approximate 6,000 residents in a group of seven villages, has a hospital, a basket ball court, three gas-stations, five schools, seven fish wholesalers, and four karaoke bars (which, along with free WiFi, is a must in every single restaurant in Vietnam and Cambodia), Police Station, Provision Stores, Church and a fresh water crocodile farm among other things… in fact, every single need 'floating'!
To have everything floating was a novelty to me, a city-dweller and so we visited some. Seeing clothes drying on hangars in floating homes guarded by dogs in the mighty lake, I wondered how the dogs could stay in such confined spaces! Such is their way of life. I saw a lone tall Buddhist Monastery on stilts standing like a beacon, as if guiding everyone safely over the vast lake. Recently a private firm has taken over the village, making it commercial and pricey.
Returning to the ferry, we moved by car to Pouk District, 15 km west of Siem Reap to see silk production in Artisans d'Angkor, where a briefing –cum-demonstration on the life cycle of a silkworm (47 days) followed, complete with mulberry leaves (their food), breeding, extraction, bleaching, refinement, weaving; and ending, as usual, in their souvenir store with finished products: scarves, stoles, hankies and more. Expensive, but one had to bring back a souvenir for the granddaughter!
Our next halt was West 'Baray' ('Reservoir', in Khmer) just west of Angor Thom (one of the temples visited the previous day). Approximately 8×2 KM, King Suryavarman had begun construction in 11th Century, with a temple on an artificial island, in its middle. It was later completed by King Udayatityavarman-II in the same century. One school of thought holds it as an imaginative re-creation of the 'Churning of the Ocean' from Hindu Mythology, a favourite theme everywhere in Cambodia.
Moving on, we came to the War Museum. It seemed to be a half-hearted effort with no caption-boards; guides who couldn't speak English well; and rusted weapons and equipment. Within 20 minutes, we moved on to pay my homage at Wat Thmey, (called Killing Fields), a Buddhist Pagoda with a glass memorial stupa containing the skulls and bones of some victims of the Khmer Rouge: a reminder of their atrocities. Just a short distance on the way back was the War Memorial Monument. Inaugurated in January 2005, it honors the Vietnamese soldiers who died while freeing Cambodia from the Khmer Rouge in 1979. Full of replicas of Angkor Wat, it has Devas and Asuras on either side of the main entrance, 'churning the ocean.' It was disappointing to see the place full of rubbish with people (visitors to a nearby hospital?) stretched out.
After an hour's rest, I was driven to Crystal Angkor Restaurant, where I was the only vegetarian for dinner, as I had insisted on seeing the Apsara Dance even if I missed many items of food. I had earlier seen similar dance in Thailand but the desire was overpowering. It was well worth it. I didn't miss the food either, as they produced 'amok' vegetarian meal.
MORE INFORMATION ON TONLÉ SAP
Tonlé Sap or 'Great Lake' a freshwater lake in Cambodia, is the largest such lake in Asia. Located in the Lower Mekong basin that gets sedimented due to alluvial deposits, it is a two way lake which changes drastically in size throughout the year: getting its inflow during the rainy season (May-Oct), reaching to its maximum in November (with a depth up to 14 meters) and flowing into the Mekong River for the remainder of the year. One of the world's biggest inland fisheries, it produces 400,000 tons, i,e, 75 % of Cambodia's national fish production. The lake feeds over 3 million people, who live around it in the five Cambodian provinces. Of these, 80,000 people live on the water permanently, spread out over 170 floating villages. Fishermen sometimes travel two days to reach the middle of the lake and spend up to a week, out fishing; some may never return. Huge waves, limited food (both because of poverty and optimum load) and risky conditions make fishermen's average lifespan only 54 years. Orphanages exist for children of deceased fishermen. With the annual income of a household around $500, about 12% children die due to poverty, tough life, lack of medical care and malnourishment.
There are over 220 different species of fish in the lake. But unbridled development is slowly leading it towards loss of marine life. Just 20 years ago, the UNESCO declared it an ecological hotspot. The government takes on the responsibility to conserve, develop and provide logistic support to such ecological projects.
APSARA DANCE
A visit to Cambodia is incomplete without watching the ancient art of Apsara dance, as depicted on the walls of Angkor's temples. Special to Khmer culture, they consider Apsaras (born during 'Churning the Ocean') as their Mother. There were 3000 dancers in King's Court many centuries ago exclusive to his watching, but many had been taken away to Thailand in 15th Century. It was revived only in 1995, 16 years after the fall of Khmer Rouge. Mainly some hotels organise these every evening, along with a paid non-vegetarian dinner.
Girls are selected at age 7 and undergo 6 years training to learn 1500 intricate positions; and 5-6 more years to perfect them. Every position requires great deftness and deliberation: knees bent, heels touching the floor first at each step, coy smiles on their faces each having its own particular symbolism – a finger pointing to the sky indicates "today", and standing sideways to the audience with the sole of the foot facing upwards represents flying. Before each performance, they are sewn into glittering silk tunics and sequinned tops for a tight fit. I watched the Blessing Dance, Coconut Shell Dance, Peacock Dance, Masked Dance and Apsara Dance.
Featured image: View of Tonle Sap lake; Image courtesy: Sharonang/Pixabay
About Author