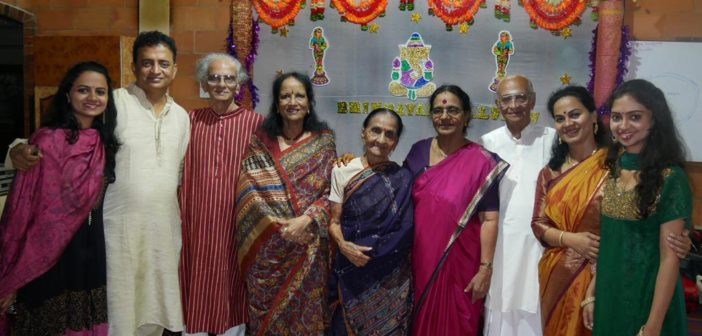 Tribute To A Centenarian Friend Who Sang Till Her Last Day
Writer, musician and activist Sakuntala Narsimhan shared her memories about late Padma Swaminathan, who breathed her last a few months short of her 103rd birthday. Swaminathan's life was of extraordinary zeal and courage and an inspiration for all women. 
How many people live to be 102, and among them how many can say they were singing till their last days? The life of my friend Padma Swaminathan who passed away on August 14th, a few months short of her 103rd birthday, was extraordinary in many ways. She was passionate about music and enrolled for a two-year full-time course in Carnatic music when in her late thirties, and already had six children. That is when I got to know her when I was 14, less than half her age (and younger than her daughter who got married a year later). Padma became a surrogate mother to me when I was struggling to get used to hostel life in a new environment in Chennai. She used to broadcast from AIR and was a close friend of legendary musicians like D.K. Pattammal and M.S.Subbulakshmi. (Her famous father, impresario and theatre personality F.G. Natesa Iyer, was responsible for discovering artistes like K.B. Sundarambal who went on to become household names as artistes.)
Padma was also a staunch nationalist – she wore only khadi (her husband, the late T.S.Swaminathan, was also a freedom fighter during the British period). Padma has preserved a photograph of her pulling the truck on which Gandhiji's asthi was taken in procession in Chennai after the Mahatma's demise. She ensured that her children would all be artistically trained – one daughter, Indumathi, trained as a Bharatanatyam dancer at the famous Kalakshetra founded by Rukminij Devi Arundale at Chennai, another daughter, Bhanumathi, trained in veena under Devakottai Narayana Iyengar, one of the leading players of the 1950s. As a mother-in-law, Padma ensured that her daughters-in-law would rise to become well-known artistes too, with full support from their spouses. How many mothers-in-law can claim as much?
Padma also learned Hindustani music at Mumbai, and graduated from S.N.D.T. University at the age of 50, but what distinguished her was her humanity, and her simple lifestyle (though she travelled widely abroad with her husband when he went on assignments, even after he crossed 90). The album that she possessed, has photographs and handwritten letters from a galaxy of VIPs, that would be the envy of anyone. One of her passions was naturopathy; she lived on fruit and vegetables, and cooked her own food even past 90, going to the market and keeping active. A strong devotee of Sri Ramana Maharishi, she moved to Tiruvannamalai, in Tamil Nadu where the saint lived, amidst lush greenery, and later, towards the last year of her life, moved to Sadhana Farms near Pollachi where naturopathy is encouraged.
Her son Mani tells me that Padma was singing even during her last days, such was her passion for music. She had an enviable collection of rare compositions, including padams by the late Brinda-Mukta. Generous to a fault, she would reach out to anyone in distress ( we wrote to each other regularly, especially after her son Jairam, husband of Vani Jairam, passed away recently but I carefully refrained from mentioning my health problems in my letters, because she used to feel distressed about my setbacks.) I had the privilege of being her friend for 64 years and have still preserved some of her handwritten letters –her handwriting was beautiful and legible even at 101.
What a pity that all humans have to pass away some time! People like Padma were treasures and a gift to her friends. I re- read her letters occasionally, to gather strength and inspiration. Thank you, dear Padma. Rest in peace.
---
Want to know about the story of another woman, A Lalitha, India's first woman engineer who, with her grit and determination, achieved her goal while mothering a child single-handedly? Click here.
About Author