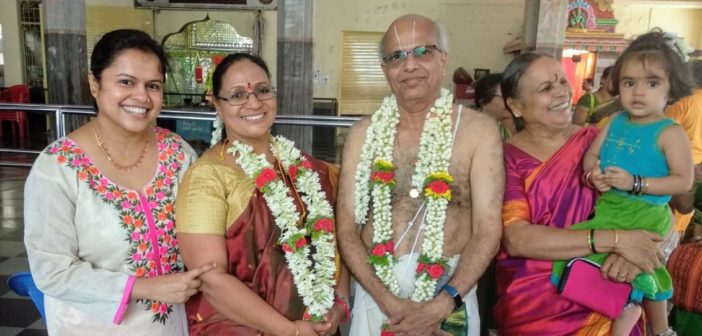 Tying Knot After 50: Trending Among Young-At-Heart Silvers
These super inspiring seniors are tying the knot after 50 and proving age is just a number.
67-year-old Kochaniyan Menon and 66-year-old Lakshmi Ammal found love at an old age home in Kerala and recently tied the knot, becoming the first couple of the state getting married in a state-run old age home. The state government not only welcomed the senior couple's decision but also hosted a grand wedding for them. Menon and Ammal are not alone in proving that age has got nothing to do with falling in love and starting a new journey. Just a few months before Menon and Ammal got married, a Bengaluru-based senior couple, S Seshadri, 64, a retired marketing manager in a leading public sector undertaking and Suma, 54, a retired accounts manager in a government-based corporate, got married and showed that age is no bar when it comes to loving someone and dreaming a life together.
It all started after Seshadri lost his wife in 2018 and his son and daughter-in-law, now settled in Canada, did not want their dad to lead his silver years all alone. His Hyderabad-based daughter also welcomed the idea and his children's encouragement made him open an account on an online matrimonial platform.
"Suma too was listed there but she was not active. In fact, she had deleted her account long back but luckily it still remained and by fluke, I got a chance to get in touch with her and what began between us was friendship and a journey to understand each other. We used to talk to each other over the phone and had met thrice. Her daughter accompanied us during our third meet and we had a great dinner together," says Seshadri.
Suma, who lost her husband 5 years back was initially a little hesitant to take their friendship to the next level. "I was shy at first but with my daughter's support, I finally decided to get married. During silver years everyone needs a partner and a friend to be with to keep loneliness at bay and to stand by each other during any kind of emergency. Our children are all settled in their own lives and we too are happily enjoying our post-retirement days together. It feels wonderful to have a bigger family now. While earlier I had only one daughter, right now I am a proud mother of two daughters and a loving son," says Suma.
This inspiring couple went to Andaman and Nicobar Islands on their honeymoon and had a lovely trip in October 2019. And guess what, they tied the knot only two weeks after Suma's daughter got married to the love of her life.
Seshadri is a member of Adda, one of Silver Talkies' social engagement clubs in association with Rotary Cantonment and the wedding was celebrated with all grandeur at Adda. All like-minded and young-at-heart friends came together to gift a bouquet of flowers to the newlyweds and cut a special cake wishing them a blissful life.
Isn't it awesome to see children realizing the need for companionship for their parents and encouraging them to start afresh during their silver years? It indeed is and may we have more such inspiring seniors embracing aging the coolest way. Love has no age and these super silvers have proven that.
---
Liked this story? Click here to read about companionship services for older adults. 
About Author