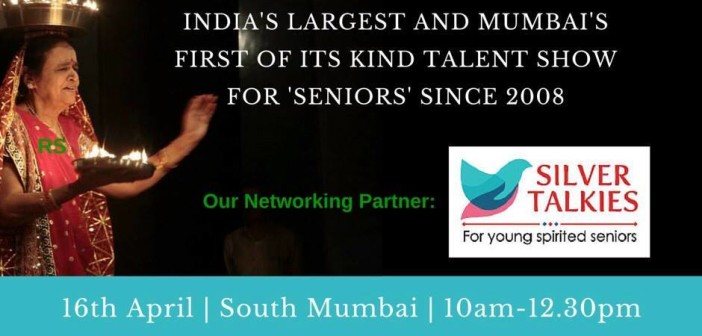 Umang Talent Show – The Retired Rockstars
Umang talent show is specially held for senior citizens in Mumbai every year to showcase the many talents they have. Here we profile three super performers who have not let age come in the way of their talent and passion.
Aruna Patankar
Aruna Patankar is 77 and for the last two years has been participating in Umang talent show for 55+, organised by Silver Innings. Aruna has always loved dancing, though she never had the chance to train in it. A 35 year teaching career saw her retiring as the principal of a school in Borivili, Mumbai. Even as a teacher, Aruna made sure she kept in touch with dance, her first love. "I would not only teach the students but also perform with other teachers at the end of the function.
After retirement, Aruna started to perform at various programs for senior citizens. "I would go without hesitation wherever there was a chance to perform. My husband was not in favour of it much but he didn't ask me to stop it either. My children supported me and I even made an appearance in a TV show, Entertainment Ke Liye Kuch Bhi Karega, with other senior citizens. A member of Rotary Club Ladies Wing Borivili West, Aruna has also choreographed Garba dances for other senior citizens and even won awards. "I stick to mostly classical or semi classical dances and learn from watching performances on TV or Youtube. Though I've never formally learnt, I've never felt restricted by that. "Dancing is my passion and I get energy and pleasure…I think it's a gift from God," she says.
Like her belief in the power and energy of dance, Aruna also believes in 'sewa bhavna' or the desire to serve or help the needy. "After my retirement, I thought all my life I have given my time and energy to my family. Now that they are all settled and grown up, why not serve those who need it the most?"
---
Harendra Bengali
At 70, Harendra Bengali is using technology to do what he loves most, sing. Harendra is a third time participant in Umang 2016  talent show for senior citizens organised by Silver Innings, to be held on April 16 in Mumbai. A Karaoke singer, Harendra even teaches other seniors at Dada Dadi Park in Mumbai, where he is a member, how to sing songs to Karaoke.
A music lover at heart, the former vigilance manager in a bank started learning how to sing along with Karaoke at the suggestion of his US based son. Today he downloads the songs from Youtube and has learnt how to keep pace with the music and sing along. "I have almost 8000-9000 songs in my laptop," he says. "It looks easy but when you are singing, you have to maintain the time and that is something that comes with practice," he says on teaching other senior citizens, including his wife, who now often joins him on stage.
Does he ever get stage fright? Yes, he says, he did in the initial days but he channeled his past experience of chairing meetings at work and that helped. Today he performs at various events for senior citizens voluntarily and has a sizeable collection of songs by Mohd. Rafi, Manna Dey and Kishore Kumar. "I even started downloading songs by Lata Mangeshkar and Asha Bhosle, so that the ladies among the senior citizens I teach could learn," he says, happy to train others.
At Umang this year, Bengali plans to present a medley of old songs by Kishore, Rafi and Manna Dey. Did he ever think in his working days that this is what he would do? Bengali laughs and says no and adds that he is enjoying performing and singing to the hilt. You never know what surprises and untapped talents retirement could bring forth! 
---
Navanita Parmar
At 67, Navanita Parmar's diary is probably fuller than that of many younger people. She choreographs, takes Bharatnatyam classes and teaches dance to children with developmental disabilities. Dance has been a lifelong passion with Navanita, one of
key participants at Umang, the talent show for 55+ held in Mumbai every year.
A Bharatnatyam dancer, Navanita, 68, plans to do a semi classical number to a Bollywood medley in Umang this year. She also choreographs and teaches others at the show. "Classic dance is my forte and I prefer to stick to that," she says of her plans. She had taken voluntary retirement and was keeping herself occupied with social work when she read about Umang in a newspaper, asking seniors to participate. Navanita was instantly hooked. "It gave me the chance to be on stage after many years." She has been part of most Umang shows and trains other women over 55-60 who wish to participate and dance.
Navanita is proof that age isn't a barrier if you have your heart and mind in something. This former bank employee started learning Bharatnatyam at the age of 44 and performed her arangetram at the age of 54!
Navanita has channeled her love for dance into the social initiatives she is involved with. She has been teaching dance to developmentally disabled children since 2002 in Goregaon, Mumbai. "Initially it took me time to understand them and gradually I adapted the moves and understood how they react," she says. Her biggest learning from working with these children has been patience. And her greatest joy? "The happiness in their expressions as they dance; their interactions and camaraderie, the fights and teasing, how they overcome their fears and want to learn something…" says Navanita who teaches them once a week and mentors them before any performance. It's been a journey of discoveries, both for the children and Navanita, their teacher.
Want to know what happened at Umang 2015? Click here to read out feature on the event last year.
Umang 2016 is organised by Rotary Club of Nariman Point Mumbai, Rotaract Club of Rizvi Law College and Silver Innings, an organisation working with senior citizens in Mumbai. Since 2008, Silver Innings has been bringing together gifted seniors on a shared platform and giving them a unique opportunity to showcase their talent.
For Entry FREE PASS and Enquiry Contact: silverinnings@gmail.com / 9987104233 / 9029000091- 11am to 5pm (Mon to Fri). First come First Serve Basis
Venue: Birla Matoshree Sabhagriha, No. 19, Vithaldas Thackersy Marg,, New Marine Lines, Mumbai, Maharashtra 400020.
Event Date: Sat 16th April 2016
Time of Event: 10am to 12.30 pm.
Registration at 9am
To know more about the event, visit here . To register for free passes, click here 
About Author