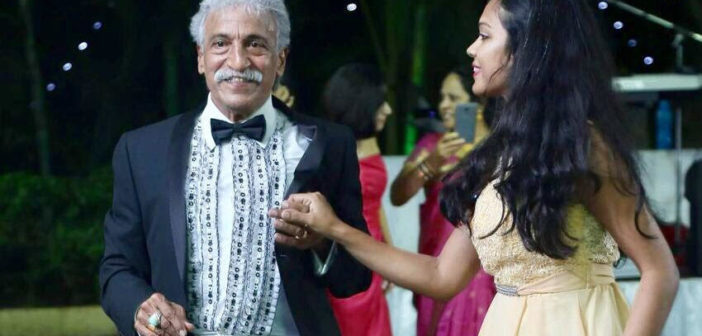 Valentine Ward Teaches Ballroom Dancing In Bangalore And Is On His Toes At 70+
Valentine Ward teaches ballroom dancing  in Bangalore and has been the man behind teaching many couples their first dance for the wedding day. We couldn't let Christmas go without meeting him. Here's how this young-at-heart 74 keeps life on its toes!
The thought of exercise may make some people groan and sigh in anticipation. But Ballroom dancer Valentine Ward, 74, believes physical activity doesn't have to be grueling or boring. Engaging in dance is wonderful for healthy aging and keeping seniors strong while they have a ball (We love our puns intended!)
On A Song & Dance
Valentine Ward and his 13 siblings take after their father's love for ballroom dancing. His dad Fredrick Ward was a Ballroom dancer during his time. He used to wind the gramophone after the family was back from church on Sunday mornings and taught all his kids the beauty of dance. Val, as this septuagenarian is fondly known, adds, "Dad let us have our lunch only after we finished our Sunday session of ballroom dancing at home."
The practice sessions paid off. In fact, Ward's sister Avril, who's 78 is still one of the top ballroom dancers in England. Music has always been part of Ward's life. He formed his first band at 18 with four others in Kashmir, while living near Dal Lake in Kashmir. "We called it Aquarius, because all five members were born in the month of Aquarius," says Ward. Unfortunately, they were forced to leave the place during the Indo-Pakistan of 1971. "I was the lead singer and bass guitarist and we played Doors, Jimi Hendrix, Beatles, Cliff Richards and Elvis Presley."
Ward lost his "professional signing voice" after a Bypass surgery in 1994 but that didn't stop him from crooning. His daughter, Miracle (in the top image with him) took over the singing genes from him. She is a physiotherapist and music teacher and is now involved with gospel ministry singing in Goa.
Being On His Feet
Always an active man, Ward was the Physical Education teacher at Baldwins boys high school, Bangalore for 30 years and also the cultural chairman. He then moved to Bethany High School as a liaison officer and sports adviser and helped his students with dance classes too for 10 yrs. His last few working years was at The Indus Early Learning School where he trained children on motor coordination and motor skills through sports and clubbed it with dancing. Needless to say, the children always looked forward to their run on the field and salsa and rock and roll on the floor with their favourite teacher. Until his recent retirement, Ward, a young-at-heart 73 then, ran the ground with his students and even today stands tall as a pillar of support and inspiration to them. Known for his benevolent spirit and powerful presence, Ward has many awards showered upon him by the schools he taught at.
Apart from dance, he has even won an award for his name!
In 2015, Ward and his sister Victoreen won the jiving competition held for senior citizens on Valentine's day in Goan Heritage Resort in Goa. He also got an award for his name being 'Valentine' that marked the day!
Staying On Top Of His Health
Ward is a fitness fanatic. He went through a bypass surgery in 1994 and has two stents but has managed to stay fit and active, the spring in his step intact! A year after his operation, in 1995, he skipped 4600 steps non-stop for 30 mins at 150 skips/minute. He felt completely fit and proved to himself that he was "Yaay and hearty!" The stents may have taken his stamina away but didn't stop Ward from dancing, diet and workouts.
He says, "I am very fierce about things that I believe in like singing, dancing and sports and never gave up on them despite the health hurdles that came my way."
Ward has been learning and teaching all his life. While teaching students in the school, he continued to learn various forms of ballroom dancing from the best in the industry. Even at 74, he teaches all forms of dance to anyone who reaches out to him and has the passion to learn. The teaching is what keeps him going. He is the Master of Ceremony for most Anglo-Indian weddings in the city and also teaches couples their first dance. "Often while teaching couples their first dance I notice the girls pick the moves quickly while the guys are hesitant and tell me they have two left feet. I assure all those grooms that I will help them find their right feet!" Ward considers himself lucky to learn from the likes of Lourd Vijay, Richard Thaloor and Yana Lewis. He smiles like a happy little boy when he quickly adds "At the age of 65, I danced at the International Salsa Congress held at Leela Palace, Bangalore along with Lourd Vijay and Richard Thaloor." He says these two top international dancers helped him better his moves in Salsa, Merengue and Cha Cha Cha.
Can Dance Help Older Adults?
Dance is an activity that burns calories, works the heart muscle and is appropriate for any age and level of fitness. Dancing reduces the risk of high blood pressure and diabetes, strengthens your heart and improves your overall mood. Additionally, they provide great opportunities for socialization with other seniors.
Ward urges every senior citizen to embrace dance and says it is never too late to strut your happy feet. His suggestion is line dancing, especially for senior citizens. Line dancing is a form of dance that takes place in a group and the emphasis is on Country and Western. Ward conducts line dancing classes for seniors that is targeted at the older people in the community, although all ages are welcome. It is designed to give them an outlet where they can come for some gentle exercise without the stress of a full-on line dance class. The music is generally slower and the dance sequences are shorter.
Ask old age to take a hike
"My motto has always been, if it feels right and it feels good, go for it! It's never too late in life to channel your inner dancer." Says Ward. "Age is all about your thoughts and positive thinking. Though your body ages with passing years, your thinking and lifestyle can be young and fulfilling if you let it be. A healthy diet and lifestyle coupled with any form of exercise you love is the key. My wife Grace, 65, continues to work as a commercial executive at a private firm and keeps herself actively engaged. Never stop leading an active and fulfilling life that is the secret to asking old age to take a hike!"
Silver Talkies loves giving a platform to talented seniors like Valentine Ward to help them share their skill with others. We have been conducting ballroom dancing classes for 55+ with him in Bangalore. If you wish to learn dance from Valentine, write to us at mail@silvertalkies.com
To see images from the class, click here
About Author