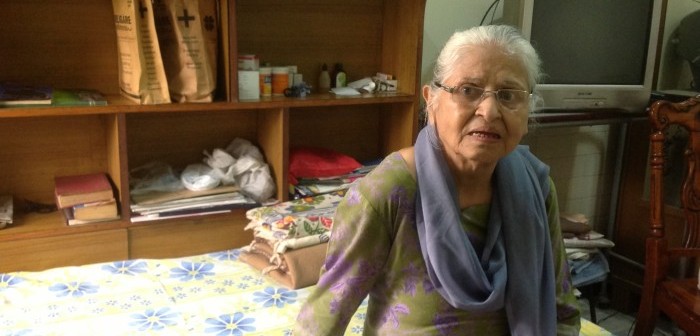 A Vardaan For Medically Challenged Seniors
Vardaan Senior Citizen Centre in Delhi has created a home away from home for many medically challenged seniors whose families live far away.
Ashima Puri* (65) suffered from paralysis soon after she retired and had to be moved to Vardaan Senior Citizen Centre due to difficulties in climbing up to her kin's first floor home. Kuljeet Kaur's* (76) children stay abroad, so she has made Vardaan Senior Citizen Centre her home for the last 4 years.
Similar are the stories of all residents staying at the Centre as is also the sadness that shadows their face at the mention of their families. However they are all happy to be in the love and care of Vardaan Senior Citizen Centre in New Delhi, which is one of its kind.
It is not often that you come across a home meant specifically for medically challenged seniors. While today's market is flush with retirement homes of all types and sizes, most of them refuse people needing serious medical attention.
True to its name, Vardaan Senior Citizen Centre is a blessing for the elderly riddled with physical challenges. Pioneered by Dr. Rekha Khandelwal, a gynaecologist by profession, the facility run in conjunction with Vardaan Nursing Home, can house up to 12 patients and offers both short and long-term stay facility. Each patient is provided with an AC room, access to doctors and nurses 24/7, food and laundry facilities and an attendant to take care of all needs of the patient including feeding and dressing among others. A month's stay at the Centre costs around Rs. 45,000, excluding medicines and specialist consultations.
Initiated at the behest of her staff and some patients, Dr. Khandelwal, together with her husband, started by taking in an acquaintance's father for a fortnight as the son had to travel overseas for an official assignment.
The patients staying here suffer from a variety of ailments – dementia, paralysis, tube feeding and bed sores are only some of these. Doors are open to terminally ill patients requiring palliative care as well. The only limitation being that the Centre can handle medical needs within the infrastructure of the nursing home. Patients requiring ICU need to be shifted to a hospital. Hence while admitting every patient, the guardian is required to fill up a form stating which hospital they would want the patient to be moved to in case of medical exigencies.
While the families stay in regular touch with Dr. Khandelwal, it is largely the patients keeping each other company at the Centre. There are small celebrations when some caring samaritans come visiting. A regular companion for all the residents is Kalyani, a residential nurse's daughter, who has many surrogate mothers at the Centre.
Talking of future plans, Dr. Khandelwal says, "Real estate prices are a deterrent as is also the need to be in the proximity of big hospitals. If we find a willing partner we would definitely expand."
Vardaan Senior Citizen Centre is located at B-100, Malviya Nagar, New Delhi – 110017
Phone no. – +91-11-46018201, +91-11-26689911
Web: https://www.facebook.com/VardaanSeniorCitizen
*names changed on request*
About Author