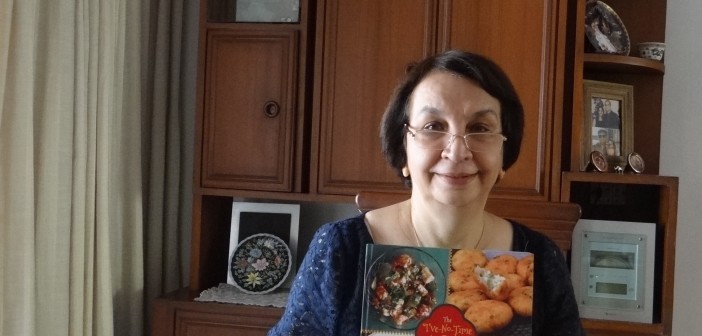 The Cookbook For Kitchen Newbies by Veena Gidwani
Veena Gidwani's 'The I've No Time To Cook Book' is a collection of easy to make recipes and kitchen tips for those who are hard pressed for time when it comes to cooking or trying their hand at it for the first time.
When Veena Gidwani, 66, decided to write her first cook book, she was determined to put together an easy guide to delicious and nutritious home cooking. A working professional all her life (she continues to freelance), Veena was always intrigued with the way her younger colleagues would struggle to put together a regular meal all because they found it "difficult, time consuming and messy" and decided to find a solution to it.
Her The I've No Time To Cook Book puts together her experience over the years through recipes specially designed to accommodate the 'pressed for time young men and women' who live away from their homes and end up missing home food simply because they have no time to cook. The book is also aimed at young families, couples and college students. "The easy to make recipes for all meals of the day can be made in minutes," Veena writes in her forward. She shares simple tips learnt from years of cooking besides covering the basics of setting up of a functional kitchen for the uninitiated. "The idea was to cater to everyday cooking with basic ingredients, using no complicated gadgets and few or minimal utensils," says the strategic public relations consultant, who alongside her long and fulfilling career in Public Relations, also managed her home and children, besides nurturing her passion for cooking.
"I grew up in a joint family surrounded by my grandmother, mother and aunts, watching them dish out mouth-watering Sindhi delicacies. We also had a maharaj (traditional cook) from Uttar Pradesh," says Veena, who runs a food channel on India Food Network/Simply Sindhi on You Tube, besides being a food columnist and a blogger for many years now. Food formed an integral part of her growing years, having being exposed to a large repertoire of cuisines. Later, as a professional woman who had long working hours, she felt the need to put together easy to make meals that could be healthy as well as tasty for her family.
The recipes are both traditional and modern, a selection that would appeal to different age groups and tastes. "The trick is to keep it varied for every part of the day, and also use leftover food," comes Veena's advice. The book has a delicious mix of soups, salads, curries and short eats from across the country, food that one would eat every day. It also has an interesting spread on how to use up leftover food — from left over aloo (potatoes) or other dry vegetable to left over white rice, idlies, boiled eggs, sweet sevaiyan (vermicelli) and even bread. "Food habits have changed from the time I was a child when we stuck to Sindhi cuisine at home," says Veena. She has also appeared on several food shows on television.
"Today we are no longer satisfied eating just dal chawal. We have all types of cuisines and should try to build it in our food selection especially while cooking at home," she says. From Paneer Dhoklas to Kheema cutlets, a simple French toast, fish in methi, Prawn Coconut curry, Sindhi Aloo Mattar, Palak Raita to a simple Dal Khichadi, she has put together an awesome mix of everyday food with her soul curries. The Dahi Kadhi for instance is a simple preparation and was done in minutes when we tried it out, with the help of her simple, straight to the point instructions. Cooking should not be considered a drudgery but as a means of stress buster and a way to unleash creativity, Veena wants to say.
"Earlier girls could cook, now it has all changed. They are clueless and my book will help such people," says Veena who feels that cooking can no longer be relegated to being a woman's job. "Men are also cooking now. Youngsters should also try and cook at home. I wanted to inspire as many as I could."
And inspire she does, as she strives to keep herself mentally stimulated and be at peace with herself. Age is no bar when it comes to start learning and Veena has recently started learning the Sindhi script. She plays Bridge, loves to go for musical concerts and read. "I feel there is a lot to do, each day brings with it a new experience," she concludes.
Here is a recipe from Veena's book. Enjoy!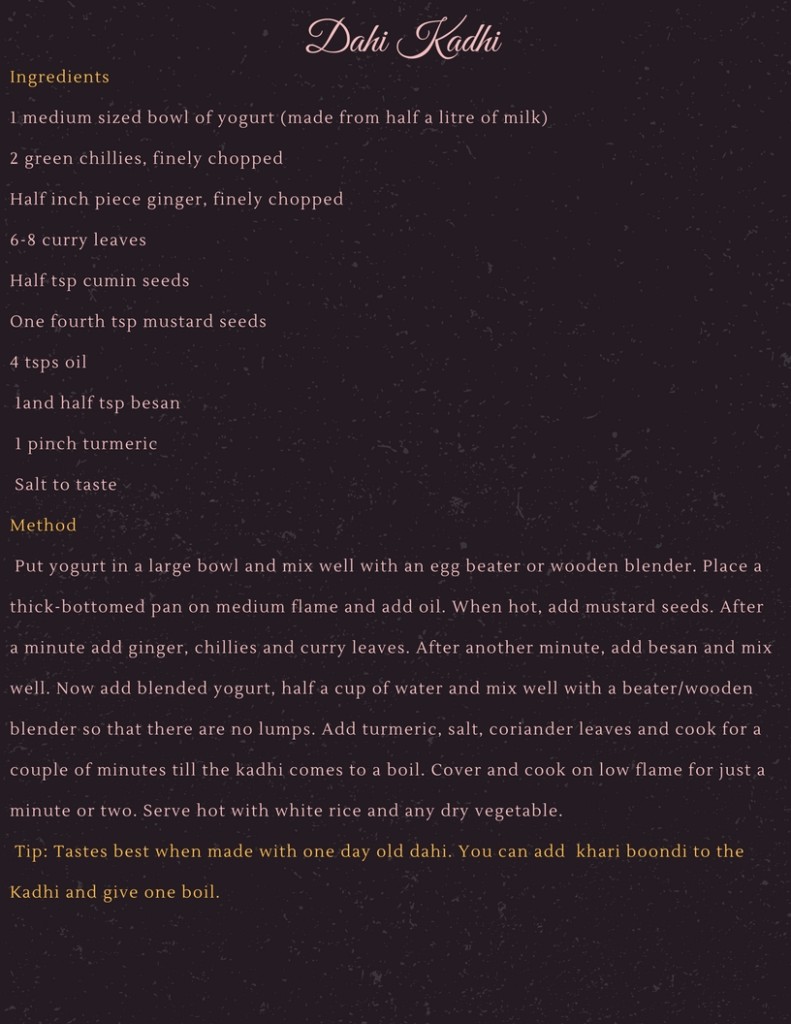 About Author