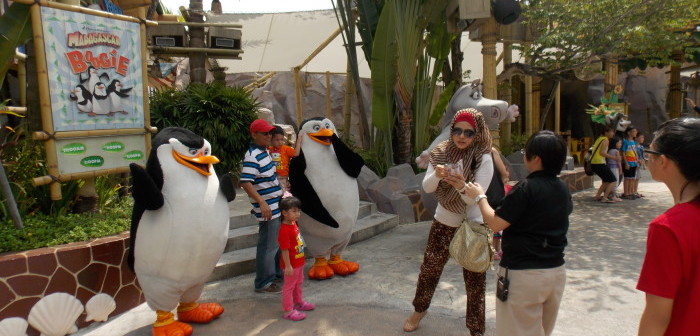 A visit to Singapura
Our reader TVK Raman found much to mull over on a recent trip to Singapore. Here are his impressions of the holiday.
A long pending wish was fulfilled after my retirement when I got my passport endorsed for a foreign trip, when my two daughters suggested  that I join them on their trip to Singapore. I jumped at the opportunity and my wife also endorsed the idea. As the count down for the departure date began, I became a bit apprehensive. Only a few days earlier, newspapers had reported about the Malaysian MH3 plane vanishing with its passengers. But tempting me ahead was Singapore and I prayed fervently to 'Vayu Puthra'every day for a safe journey and back. Finally it was time to take off.
We arrived in Singapore in the early hours of the morning. The first day was a fascinating night Safari at Singapore zoo, by tram car. The following day we visited  Sentosa Island, but before that we stopped at Singapore's landmark, the Merlion. The rain that morning enhanced its beauty. We followed this up with a trip to Sentosa Island. The cable car ride to Sentosa offers a bird's eye view. Children will enjoy the Underwater World where you travel through a glass tunnel with fishes and sharks for company around. What I found spectacular was the Universal Studios show, a demonstration of film action scenes. Joining the men was a woman who was part of the show, fighting off two thugs attacking her. With fire blasts and gun shots keeping the action alive, the audience was left enthralled. It left me wondering about her stamina, in having to repeat the same performance five or six times a day. Great stamina indeed.
Another interesting show was the Dolphin show. Wrapping up the day's activities was the musical fountain. Sitting under the moonlight sky, you are transported to another world with stories and 'Song of the Seas.' This is one show not to be missed. What impressed me about Singapore was the way the traffic was managed here. Despite being a weekend, the crowd was neatly streamlined into queues by the staff member who attended with a smile. The public transport system is remarkable, sticking to schedules and observing all safety norms. . Violations can be attended to faster as roads are monitored by police with CCTV cameras. In a conversation I had with a taxi driver, I learned that during VIP movements, traffic isn't stalled for hours unlike in India, where the common man is made to suffer.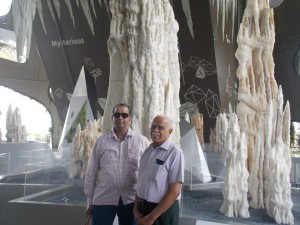 The hotels I observed followed fire safety norms. Notices were displayed  at every floors clearly indicating escape route which is not seen in Indian hotels. And this was not a star hotel either. Their Civil Defence team attends to 'Rescue and Fire safety' efficiently. The police keep tab of all public places and criminal activity under control. We did not find any alms seekers on the streets either. What impressed me most though was the difference in the status of public services provided in Indian cities and Singapore. Although both countries were freed from the British at almost the same time yet Singapore has successfully maintained top class public services, traffic control assisted with CCTV cameras  and clean roads. Add to this the affable nature of the citizens, comprising of Mandarins, Indians and Europeans. For a country battered by the Japanese during World War II in 1944, Singapore's resilience is seen in its ability to start from scratch and be brought to where it's now.
It made me wonder why India was lacking deplorably in these basics. I received the answer to this question on the final day of our shopping at the famous Mustafa Complex, a building with two stories stretching 1km long and selling everything from pins to computers. I was waiting at one counter while my daughters went around with their purchases. The escalator at that floor was being repaired and the mechanic after completing his work was testing the tension of the belt. I was curious and got talking with him. From his accent, I wondered if he was a Bengali, having spent more than three decades of my career in West Bengal. I casually asked him if he was a Bengali. His answer bowled me clean. "Is region that important? We are all from the human species."
I was knocked out with that reply. Contrast this with our politicians who hold on to their driving seat by fanning casteism and communalism, further dividing the people. Singapore was an exhilarating trip. Flying back home and arriving at Chennai airport, we availed of the pre-booking 'Call Taxi.'
There we learnt that we had to shell out Rs. 500 instead of the Rs.200 fare to our home. The extra could have been saved if we had just walked out of the airport and called the same call taxi services over phone. That was a pleasant reminder that we were back in India.


About Author