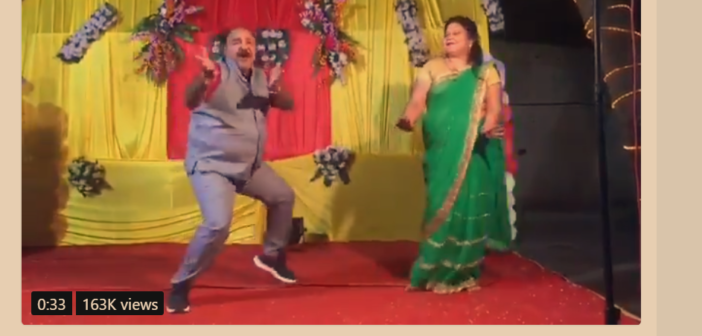 Watch How This Dance Video Is Going Viral All Over The Internet
A dance video of a middle-aged gentleman grooving to a popular Bollywood number has gone viral in India. We love his super moves and graceful abandon too!
If you are a Whatsapp or Social Media user, chances are you have seen this video by now. If you haven't, it's time to get out from under that rock and bring the smile back on your face.
A short dance video of a middle-aged gentleman dancing in a wedding function has gone viral across India. While his wife is happy to let him take centrestage, the gentleman can be seen grooving to the one-time popular Govinda and Neelam song 'Main se meena se na saaki se' from the 1987 movie Khudgarz. We got to say that this unknown gentleman can match Govinda, Bollywood's one time dancing sensation, step by step and probably even do better.
Watch it and you realise that this is a person who is absolutely enjoying himself, without a care — just the way dance and life should be, no matter what the age. We did some digging around on Twitter and were informed that the gentleman is called Sanjeev Srivastava (nickname Dabbu) and lives in Vidisha, near Bhopal, MP. We have also been told that he works at Bhabha Engineering Research Institute. We are not sure what he teaches but impromptu fun dancing is something he could give all of us lessons in!
The video was tweeted by a user on Twitter, who jokingly captioned it as 'Best wedding performance selected by UNESCO,' a reference to all those fake Whatsapp forwards that routinely 'declare' the Indian national anthem and Indian PM as 'the best in the world selected by UNESCO.' But the video is no joke and is a proof that everybody loves a good dance. Since being tweeted, it has had more than 1.6 lakh views. Social media is abuzz with comments on this gentleman's "swag" and "killer moves" and parts 2 and 3 of the video are already doing the rounds on Twitter. We love the fact that he dances with such gusto and spirit, the happiness so evident on his face, the trademark of someone who genuinely enjoys dancing.
Image and video courtesy: Twitter
About Author