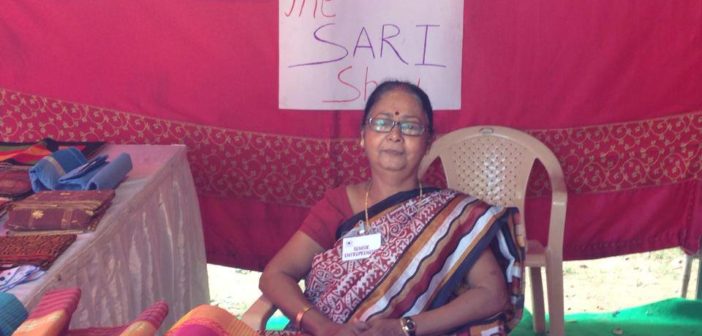 Why Senior Entrepreneur Jayasree Doesn't Want To Stop Painting Ever
Senior entrepreneur and fabric paint artist Jayasree Chakraborty believes in keeping her art alive by refining her work everyday. She tells us how running a business in her older years keeps her mentally energetic.
It's close to 1 am and senior entrepreneur Jayasree Chakraborty has no intentions of going to bed. The paisley design she is repeating on the two and half metre piece of chanderi cotton is an intricate design. At least, it's intricate to the novice eye. But Chakraborty's hands are rock steady as she guides the fine paintbrush over a swirl before sliding it smoothly down a curve and completing the mango-shaped design.
Chakraborty is the creator and entrepreneur behind The Sari Show, a home business of fabric painted dupattas, sarees and soft furnishings. She started it formally around 1991, after years of painting on every available fabric surface at home — her own sarees, her daughter's skirts, cushion covers, bed sheets…
Painting came to her as a natural talent but it had never occurred to her to harness it and turn it into a business. "Setting up a business was associated with a lot of work in my head. What it actually takes is effort, a bit of investment and a little initiative," she now says, reflecting back.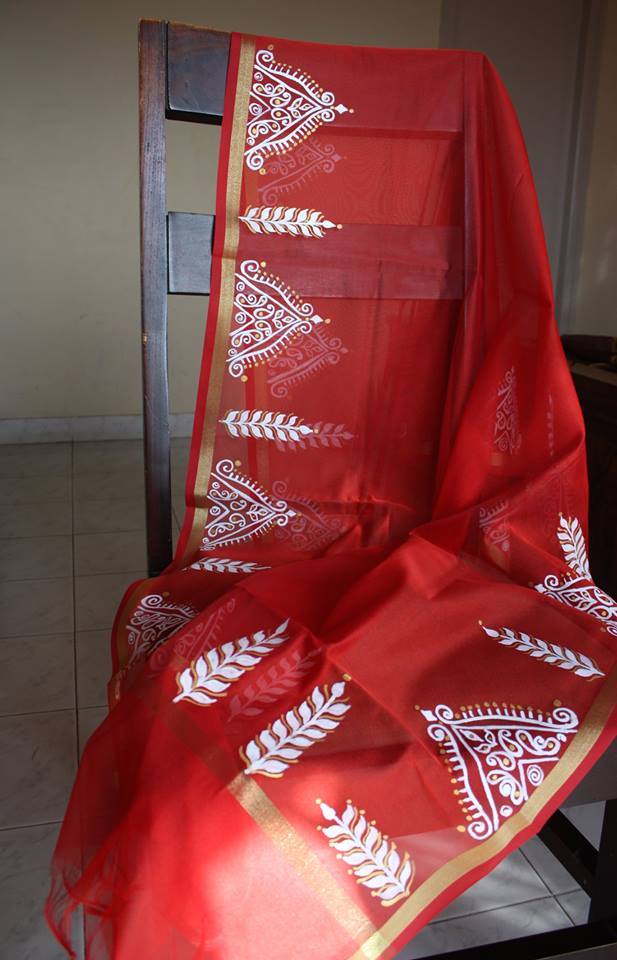 Gradually, as her children grew up and got all set to move away from home, Chakraborty, who always put family first, had more time on her hand and a desire to do something with it. She used to work in a bank when she married and enjoyed the job, earning her own money, sharing some of it with her sisters, buying her own sarees and even contributing to her home funds. Her husband's transferable job and the arrival of children meant an end to all that, though some part of her had always regretted it.
Perhaps it was the need to do something that spurred her on and led her to start her own business with small exhibitions. Chakraborty lived in Goa then and together with some friends, other home makers who were equally creative and enterprising, she started participating in exhibitions with her hand painted fabric creations.
People loved her work.
Hand painted dupattas and sarees were not that common way back in the 90s and foreign tourists often picked up dupattas as sarongs or as unusual gifts to take back home. It wasn't the most lucrative of businesses but enough to keep her on a roll.
"I loved what I was doing," says Chakraborty, "Painting was and is my stress-buster. I love matching the colour of the fabric with that of the design and usually can spend hours debating the merits of metallic green over burnt sienna or Fluoroscent orange over Yellow Ochre." She discovered she was the happiest when she painted and found a passion that would have no retirement.
Now 68, Chakraborty's small home based set-up 'The Sari Show' has its own FB page and has a small but loyal fan following among her regular clients. She has kept it small deliberately as she wants to work at a relaxed pace and create designs that are different and exclusive. Working on a dupatta usually takes her a week, while hand painting a saree may take up to a month. She also ensures that only the best quality of fabric, suitable for the paint has been used and usually sources these from Kolkata's Burrabazar area or Delhi's Sadar Bazar.  She does the sourcing herself and won't let age slow her down. The only thing she will take slow is the way she paints.
"I don't like working in a hurry as it takes away the joy of it," she says. Intricate, traditional Indian designs with a Bengali touch are her specialty and she makes those come alive in Kolkata cotton sarees and Chanderi cotton dupattas.
The dupattas come in wider, bigger sizes as well as in smaller, stole sizes. Chakraborty retails mostly from home, word of her work spreading through her FB page and personal recommendations. "When someone wants to buy, they can send me a message on Whatsapp. If I have the dupatta or sari available, they can buy it immediately or else I can create something similar for them," she says, adding with a caution that this being handcrafted art, no two designs can be exactly similar. "It's humanely impossible and also not interesting enough."
She has realised the advantage of using technology to spread the word about her work and uses her smartphone to great advantage to promote it. "I learnt how to use Facebook & Whatsapp from my children. When I make a new design, I photograph it myself, share it on Facebook and also share it with a group of clients I have on Whatsapp."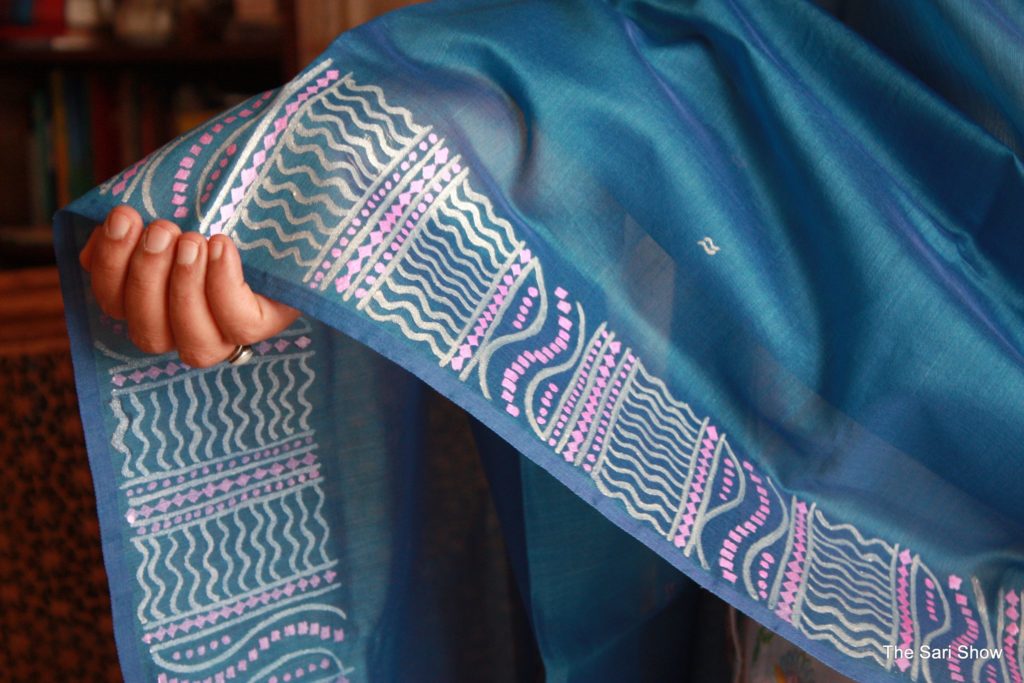 Age, dwindling eyesight and health problems all disappear for her once she sits on her work table. "I can't sleep well at night if I have not painted at least once throughout the way," she laughs. Being involved in her own work also means less time for unnecessary thoughts. "At our age, many elders have a lot of free time and think unnecessary things about who said what and who is doing what. Keeping yourself busy with a passion you have always had is not only stimulating mentally but also keeps your mind free of negative thoughts." She also feels one shouldn't give much thought to the aches and pains that come with age. "These are part of life. Don't let these keep you away from doing what you love and keeping you active. Try to stay mobile and do as much work, even if it is simple housework, as long as you can."
Running your own business, even if a small one from home requires a change in mindset feels Chakraborty. "People are happy to receive handmade things as a gift but many are not willing to value the time that goes into creating it and pay for it. Initially, I gave away much of my work as a gift but then I realised the value of my art and time spent on it. There is nothing wrong is being open and upfront about pricing if you know your work is good, valued and appreciated."
Jayasree Chakraborty's work can be seen on her Facebook page https://www.facebook.com/thesarishow
About Author