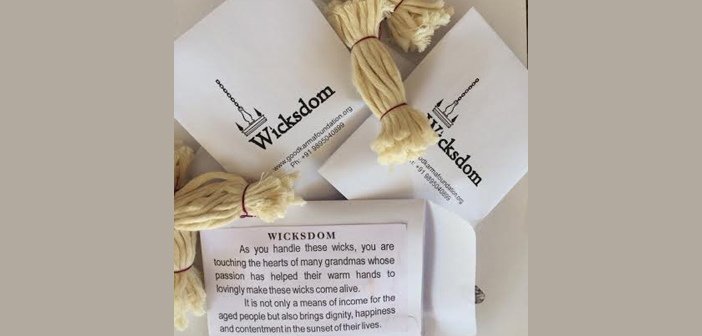 Wicksdom – Spreading the Light
Inspired by her grandmother, Lakshmi Menon started Wicksdom, a beautiful initiative that helps to spread the light in the lives of elderly women across Kerala and beyond.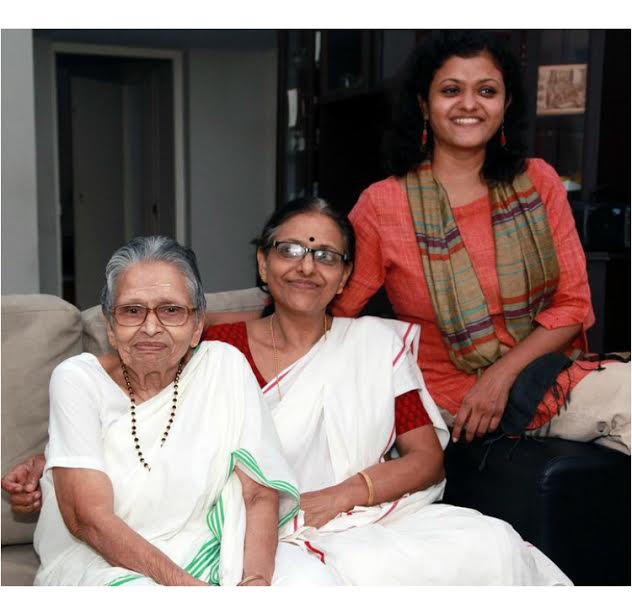 Who would have thought that simple wicks, used in oil lamps across homes and temples, could have brought a group of women so much happiness?
Lakshmi Menon's idea of involving not just her own grandmother (ammoomma in Malayalam) but other elderly women in making wicks for oil lamps has done just that. 
The idea behind Wicksdom (Ammommathiri) or wicks made by elderly women, came about when Menon realised how engrossed her own grandma was while making wicks for the lamps in their family's prayer room."My grandmother is 90 and still quite energetic, always looking to help us out. She would chant Hare Rama while making the wicks and that caught my attention as she really seemed to be enjoying it." 
Seeing the pleasure the work gave her, Menon asked her to create some extra wicks for family, friends and the local temple and her grandmother gladly hand rolled 30-40 wicks for everyone, happy to be able to do something for somebody. "She started enjoying rolling the wicks too, which were supplied to a temple nearby. Since she was unable to visit it anymore, she was happy that at least the diya that is lit in the temple was being lit with her wicks!"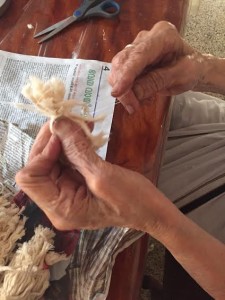 Even for frail, aged fingers, hand rolling the wicks from the yarn is not tough, says Menon, a fashion and product designer with previous stints in San Francisco and New York. "Rolling with the fingertips creates an acupressure kind of effect, which helps to lessen numbness. The elderly women also keep counting as they make the wicks, which is an activity for their brain."
The happiness generated by her grandmother and other elderly women made Menon think of using the wicks to generate money for elderly women in need.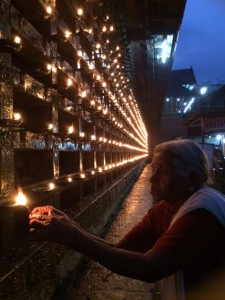 She approached a government old age home and started working with the elderly female residents there. "A packet of Wicksdom wicks cost Rs 5 for 30 wicks, out of which the women earn Rs 3 for every bundle and can easily make up to 30-40 bundles," says Menon who is still trying her best to market the project to more organisations, so that these poor women can easily earn Rs 100 per day, a tiny sum that can make a big difference to their lives.
Menon's family trust Good Karma Foundation provides the raw materials for free to the elderly women, who know the art of rolling wicks as it's common in Kerala. The wicks are sold to  temples, churches, individuals and other institutions. The needy elders stay occupied and earn a living that helps to maintain their dignity. Disappointingly enough, Menon has faced resistance from the one area she thought would be receptive. "Most temples in Kerala need eight to ten thousand lamps lit per day and I thought they would welcome our initiative with open arms. However, they were not encouraging at all as I wasn't planning on giving them any commission," she says.
Support has however come for the Wicksdom project from other quarters like the Chinmaya Mission, the Ettumanoor temple in Kottayam and from DC Books. Ravi D.C. of DC Books was one of their first supporters, giving them an order of 10,000 packets of wicks to be inserted in bundles of 30 inside a Ramayana series. Since the order had to be completed in a month, everyone chipped in, says Menon, adding that about 5000 packets were made by the ammoommas from various quarters, including the old age homes, while the rest were hand rolled by volunteers of Snehathiri, a project of  Good Karma Foundation, including employees of an IT firm in Cochin who took it up as a Friday afternoon activity!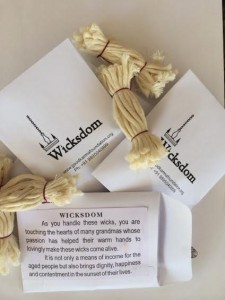 The initiative also got support from legendary actor Mohanlal, who lent his voice to a campaign for Wicksdom to be shared across various media, as well as from the Princess of Kerala, who asked for wicks by Wicksdom to be distributed with her books.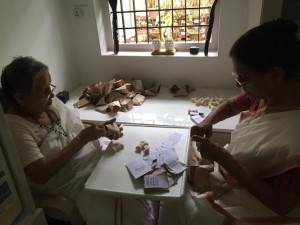 The Wicksdom initiative has touched the lives of elderly women in many ways and Menon has touching stories to share. "One old lady in our neighbourhood was neglected by her kids. We got her a power connection, which came for around Rs. 4700 and half of the money was generated though the Wicksdom project. The lady is around 85 years and has the capacity to earn at least Rs 900 every month by rolling 300 bundles of wicks. She does it with absolute commitment," says Menon, who calls this true empowerment. Her other participants also include a Muslim lady called Fatima, who is happy to roll the wicks and says it gives her peaceful sleep. Menon believes the wicks are special because they are handrolled by the grandmothers with a prayer on their lips. "Many of them chant while rolling," she mentions. 
Once Wicksdom became popular across Kerala, Menon started getting calls from many people to provide a platform to promote products made by their grandparents. "Someone makes a special kajal for babies, someone makes pickles, someone does hand embroidered clothes, it's like preserving the treasures of our culture," she says. Her desire to preserve these skills, create a market for them and give them their own recognition led her to establish GrandMark, a logo that would help identify a range of products by grandparents.
"The products can be anything made by a senior citizen," explains Menon, who held a contest for the best logo and unveiled the award winning logo on June 28, at her own grandmother's 90th birthday function. "We are aiming for this GrandMark to be similar to something like an ISI mark that can be carried by any brand to highlight that it's made by a senior citizen. Our intervention would be to make it contemporary and marketable." As Menon looks at other avenues to highlight crafts done by elderly women and men, the Wicksdom initiative continues to spread the light across Kerala and beyond. Menon credits her mother Sreedevi for the effort she has put in behind Wicksdom and of course her original inspiration – her 90 year old grand mom with a twinkle in the eye – Bhavaniamma.
To more about Wicksdom and GrandMark visit http://www.goodkarmafoundation.org/
About Author