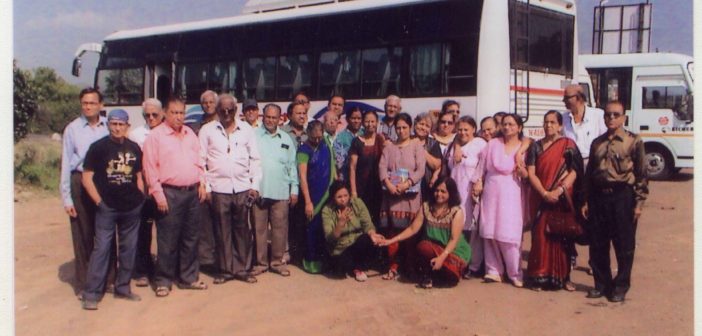 Are Live-In Relationships For Older Couples A Solution To Loneliness?
Jyeshtha Nagarik Live-In Relationship Mandal of Pune is looking at live-in relationships for older couples as a solution to loneliness. We met founder Madhav Damle and spoke to couples who met through JNLRM to find out more.
Asavari Kulkarni and Anil Yardi are like any other elderly middle-class couple. Yardi runs his own business, and once he's back home in the evening, they sit down with their mugs of green tea. Kulkarni likes to cook, so there is some snack as well, usually a Kanda Poha, the Maharashtrian snack favourite.
On weekends and holidays, they like to watch plays, movies or go out to eat.
There's one big difference. The couple isn't married. Kulkarni and Yardi, both 67, have been in a live-in relationship for the last four years and happy to continue the same way, despite some amount of "social pressure" to get married.
"We thought about it once, but then I felt sab achcha to chal raha hai. Marriage can bring in expectation and ruin the relationship. So why bother?" says Kulkarni, an amazingly independent-minded woman, who isn't hesitant to speak about anything – from her need for companionship as she grew older to the need for sexual compatibility with her partner.
Kulkarni and Yardi met at Jyeshtha Nagarik Live-In Relationship Mandal (JNLRM), a non-profit organisation run by Pune based former publisher Madhav Damle. The idea to start an organisation that encourages live-in relationships for older adults came to Damle through trial and error. He has an ancestral home in Wai, near Pune and runs an old age home for widowed seniors there. Most of the seniors there were alone and troubled, having lost their spouse. In most cases, children had an indifferent attitude to their loneliness. Damle felt marriage was a good idea. It worked initially but also came with the possibility of disapproving children and property issues, among other things.
Why not live-in relationships, which can be more hassle-free, Damle thought. "I did a survey and made 300 questionnaires. More than 70% of people who took the survey said live-in relationships would be an ideal situation for lonely senior citizens looking for companionship, but after 10 years."
Undeterred, Damle decided to start. June 12, 2012, saw the first meeting of JNLRM. "I started by taking out the announcement in local Marathi newspapers, and it caught people's eye. Our first meeting saw 25 people, and gradually the numbers started increasing every month. One of our first couples met -Mr Bam and Mrs Ketkar — it was a boost for everybody."
In the last six-seven years, JNLRM has successfully matched 39 couples despite their extremely stringent vetting process. Once Damle has a good mix of candidates, they usually go on a picnic or road trip together, as it helps to break the ice. Most of the couples who met through them started by living in together for 5-6 months before opting to get married, more often than not due to social expectations.
Meena Lambe, 60+ and Arun Deo, 71, are one of the married couples. Meena wanted to continue in the live-in relationship, but her partner felt otherwise, so they decided to get married after six months. Marriage hasn't always been a comfortable ride for Lambe, who lived independently after her first husband's death for 28 years and brought up her children single-handed. There is a good side to having someone to share her life with, but she misses her independent life.
"Still, there are good things too," she adds. "We love to travel and have already gone overseas thrice; I needed someone to have a conversation with, and he is smart, so we have interesting talks. And I needed someone to wait for me back home."
Kulkarni wanted someone with her at home too. She wasn't precisely lonely and had an extremely active social life. "But as evening fell, I'd get worried about my health and being alone and my safety."
When she and Yardi met, she decided to take the first step and text him. "I had told myself I'll meet him once and only take the next step if I like this meeting." They met every alternate day after that first meeting; Yardi would come and pick her up in his car after work, and they would go to see plays or for dinner. It was dating, though, in India, that's a term not easily used even by youngsters, let alone by two grandparents above the age of 60.
Kulkarni and Yardi played it cautious. They liked each other's company and had no-holds-barred conversations but were in no rush to change their living arrangements. Finally, after 10-months, Yardi moved in with Kulkarni. His office was closer to her home in Bibwewadi, and it made the most practical sense, though they also visit his residence in Hadapsar, a 45-minute drive away.
Kulkarni has lived in the same apartment for the last 30 years. She's outgoing and friends with almost everybody, from her immediate neighbours to people in the apartments around. She shared the news with the same confidence and strength with which she took the decision. "I introduced him to everyone, from my maid to all the neighbours and told them that we would be living together from now and do not have any intention to get married."
Despite the seemingly conservative middle-class neighbourhood and friend's circle in which Kulkarni moved, the response was positive from almost everybody although she had done the groundwork. "When I started going out with him, initially I was embarrassed so would follow him into the car once he was already inside it; then I thought I was doing nothing wrong to be ashamed of and started walking out with him, meeting people's eyes and saying hello to them on the way."
Their decision wasn't without opposition. Kulkarni's son from her short-lived first marriage (she's divorced) was supportive, Yardi's daughter wasn't, even trying to dissuade Kulkarni from living with her father by pointing out his "bad habits." Kulkarni also faced stiff opposition from her co-sister but won her over eventually. Today they visit everyone, including Yardi's daughter who lives in Mumbai. Both she and Yardi have even met relatives from his deceased wife's side. "If you believe in what you are doing and hold your head high, there's nothing to hide," he says, echoing her belief.
How tough was it adjusting to another person at a much older age?
Yardi says it took 8 months for the "comfort factor" to set in. He works up to 7 pm on weekdays and Kulkarni, a retired LIC employee, spends her time visiting friends and doing her chores. Both think the space they get the entire day helps.
Not everyone has had as smooth a path. Lambe still wonders if she and Deo should have tied the knot due to social pressure. Loneliness was a significant factor for both of them to come together, and though they have found companionship, she suggests that people think through before marrying at an older age as one's habits become more unalterable.
"My advice to all those who wish to find a companion later in life would be first to weigh the pros and cons and preferably be in a live-in relationship rather than marry."
Damle believes a live-in arrangement is ideal for older couples as it gives them a sense of independence within the relationship and avoids complexities of marriage like property issues cropping up. He's a trained geriatric counsellor and people who approach JNLRM, have to go through quite a detailed questionnaire that asks about everything from financial details to pinpointing the exact reason why people are looking for a partner. He has met all sorts of people in the process, some outright hilarious – from an elderly man mainly looking for a housekeeper to a lady looking for an old man who is likely to pass away soon leaving the property to her.
Once he has matched a couple who wish to stay together, he insists on a notarized agreement, spelling out everything from who would be taking the responsibility to cook to whether finances would be shared jointly. He asks them to make a will if they haven't and even asks them to note down what their expectation about sexual relations would be, to avoid any future complications.
Since the very concept of live-in goes against the grain of traditional Indian belief that puts marriage above everything, have Damle's efforts been ridiculed and rebuked?
'I haven't received threats, but beliefs are difficult to change. I reached out to several senior citizen's organisations across Pune but did not get a very enthusiastic response," he says. What helped him was the local media. "Yeh kaam pravah ke virudhh hai (against the norm). The local Maharashtrian media has been very supportive."
JNLRM is open to all, though Damle prefers residents of Pune and surrounding areas so that he can be in touch with the person comfortably. He charges Rs 5000 for men who are interested in starting the process of finding a partner. There are no charges for women as Damle feels it is a massive step for many older women to even think of approaching the organisation. JNLRM is open to women over 45 and men over 50.
Damle wishes society was more open-minded and accepting of live-in relationships among older people. Although children (including one grandchild) have met him looking for a partner for their parent, he has also come across many who have opposed. "However, we always ask people to keep their children aware of their intentions to find a partner. Because even if children are angry initially, sometimes they come around."
---
Featured image: JNLRM  members on a trip
To contact the group: happyseniors19@gmail.com
Call: 8007193397
---
Liked this story? You may also like: A Companion For The Silver Years
About Author